Complete the 2022 Community Health Survey!

If you received an invitation in the mail to help us learn about the community's health by completing the 2022 Community Health Survey, please find your secure passcode in the invitation. After clicking the survey link below, please enter your passcode to get started. We recommend using Chrome, Safari, Microsoft Edge, or Firefox as your web browser to complete this survey.
Please click this link and enter your passcode to continue to the survey
After entering your passcode, you will be redirected to a secure SurveyMonkey webpage to complete the survey. Your responses will be securely stored in a SOC 2 accredited data center.
When do I need to take the survey by?
Please take the survey as soon as you can. If you don't take it within a week of receiving the letter, you may receive a reminder letter or postcard in the mail.
Why was my household selected to take the survey?
Random chance! The survey is a scientifically designed research effort—we randomly choose 13,000 household addresses in Larimer County to complete this survey. This helps us get responses that represent the different voices in our community while keeping the survey confidential. The Health District does not know the names of anyone invited to take our survey.
¡ Complete la encuesta de salud comunitaria de 2022 !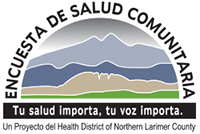 Si usted recibió una invitación por correo para completer la encuenta de salud comunitaria de 2022 y asi ayudarnos a conocer mas sobre la salud de la comunidad , por favor busque su código de acceso seguro en la invitación. Después de hacer clic en el enlace para la encuesta por favor ingrese su contraseña para comenzar. Recomendamos usar Chrome, Safari, Microsoft Edge o Firefox como su navegador web para completar esta encuesta.
Haga clic en este enlace e ingrese su contraseña para continuar con la encuesta.
Después de ingresar su código de acceso, será redirigido a una página web segura de SurveyMonkey para completar la encuesta. Sus respuestas serán guardadas de forma segura en un centro de datos acreditado por el SOC 2.
¿Para cuándo debo realizar la encuesta?
Realice la encuesta lo antes posible. Si no lo hace dentro de una semana de haber recibido la carta, es posible que reciba una carta de recordatorio o una postal por correo.
¿Cómo fue seleccionado yo para tomar la encuesta?
¡Oportunidad al azar! La encuesta es un esfuerzo de investigación diseñado científicamente: elegimos al azar 13,000 domicilios en el condado de Larimer para completar esta encuesta. Esto nos ayuda a obtener respuestas que representan las diferentes voces de nuestra comunidad al mismo tiempo que mantenemos la encuesta confidencial. El Distrito de Salud no conoce los nombres de las personas invitadas a realizar nuestra encuesta